Food App Ideas: The Food delivery business has never lost its appeal provided that it delivers quality food to its customers and can reach out to the correct customers. Now, when it comes to starting a food delivery business startup, an individual online business idea that can provide the existing technological advancement and market trends can play a great role in balancing demand and supply.
Nowadays, peoples are like food order online and get delivered to their doorstep. The global food delivery markets stand at $83 billion and the annual growth rate is approximately at 3.5% for the next five years.
The revenue generated by the online food delivery services amounts to the US $107,438M in 2019, according to a statistic report. It is look forward to show an annual growth rate of 9.9% resulting in a market volume of US $156,819m by 2023. In this rapid growth, your restaurant food joint startup needs to gear up with the trending online food app ideas.
It looks that you might be facing issues like managing orders, logistics, deliveries, inventory, customers loyalty, unpredictable pricing, without an on-demand food ordering apps or food delivery apps.
How Profitable Food App Ideas Can Help You?
We are already works with huge potential market for the restaurant delivery business apps. It can lead into a multiple online business chance. In addition, adding a white-label on-demand delivery app that is well thought out is highly beneficial for your restaurant business or food startup as well as the significant growth in sales. Nevertheless, let's take a look at a few of the main benefits.
In the last five years the restaurant can allow online ordering system have seen 30% growth in a consumers count.
The food ordering online has helped in the creation of more revenue.
Today technology has helped online food delivery and restaurant delivery businesses reach out to huge customers.
95% of online businesses are the opinion that combining their business using technology has enhanced their productivity and efficiency.
Best Food App Ideas to Start Restaurant Delivery Business for Startups
AR-based app for exploring restaurants
Home cooked food app
Food waste-reduction app
Food delivery app
Table reservation app
E-menu applications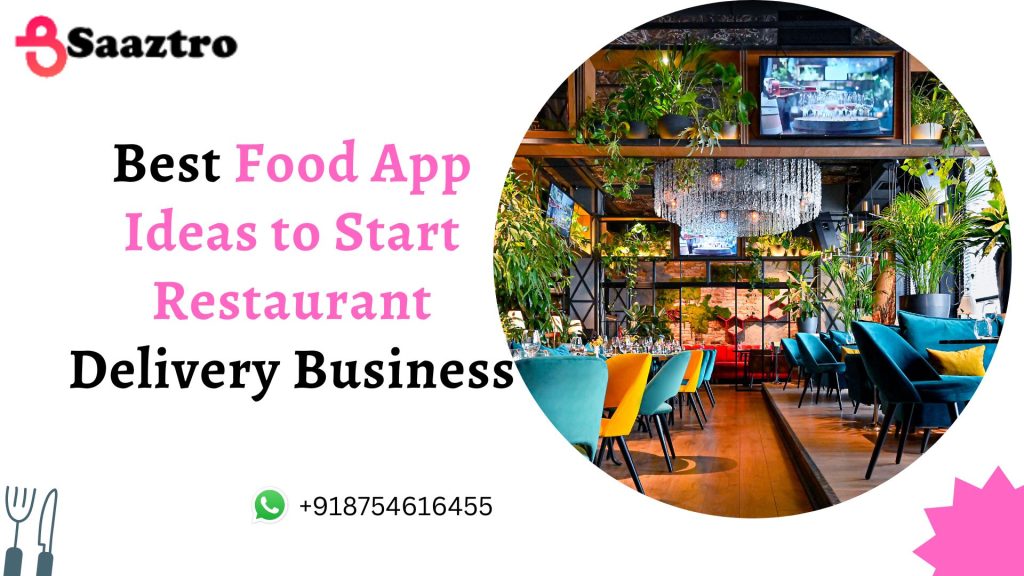 AR-Based App to Explore Restaurants
We have lot of on-demand food delivery app ideas that you can follow to promote your restaurant business, but following the latest and interactive ones always pay-off more in terms of customer engagement and satisfaction. The advanced technology of AR can impress your customers easily. How the tasty food you are serving is not matter, but the most thing is which way you are delighting and grabbing your customers and also retain existing customers.
Today the many travelers who choose dinning places according to the lively atmosphere of various sought-after restaurants across cities and travel destinations. These needs can be accomplished with the help of AR technology integration in the food delivery app.
We have professional and experienced mobile app developers can add an extra dimension of creativity to your restaurant delivery app by including,
Quality deliverance: Restaurants serve perfect food and detailed ingredients to keep up with quality deliverance standards for customers.
Augmented menu cards: this will create the virtual menu visualization of food possible. Also, we can add images, videos or other multimedia which instantly make a personalized AR experience.
Entertainment while waiting for food: like perks keep the users engaged when waiting for food and they are also entertained to the fullest.
Also Read: 7 Restaurant Marketing Ideas That Will Success In 2022
Home Cooked Food App
Home cooked food app is similar to fast food, gourmet traditional dining stimulated a multiple of various cravings. Sometimes the food taste of a restaurant is incomplete to meet this requirement. This is among the best food apps that is attracting to gourmets since your app will cater to the particular taste of people who want home-cooked meals.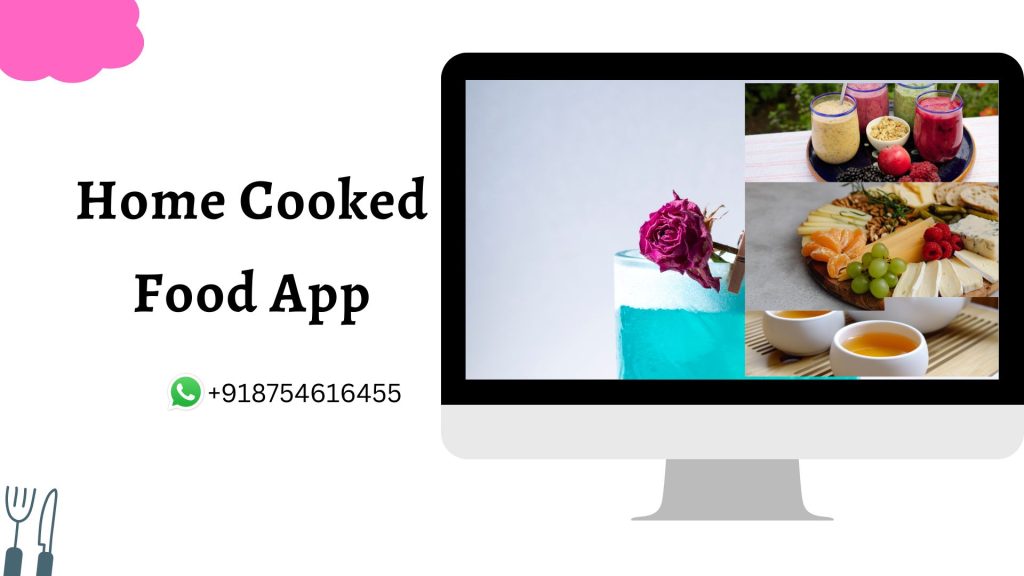 As against to eating places this method permits customers to combining with freelance or remote chefs, who can register and offer on-demand food. Customers can choose their favorite food menu or food and place specific request for orders online.
Food Waste-Reduction App
As a food delivery startup and restaurant business owner, there is a perfect chance of food being wasted. In the end, the online app to reduce food waste solutions are the better for any food delivery startup to effectively manage balance food items and to reduce to waste at the restaurants.
Moreover, the mobile food management app can be a great way to in executing a specific act of giving food items to the less fortunate people.
This is extortionary concept for a restaurant apps because you can simply start your own business by dispersing leftover food items leftover from restaurants to the less lucky in your neighborhood. As a restaurant proprietor it is important to be aware of the waste food you produce. In these days food producers produce lot of food.
Food Delivery App
The mobile app concept is worked to deliver food items. It will assist restaurant business reach customers from the extreme corner of the world. There has been a rise of food restaurants acquiring an app for food delivery for delivers of food to their customers doorsteps. There are two various types of food apps available in the market.
Once app is that restaurants allow you to just order food while a few restaurants also have mobile applications makes that offers both delivery and order options at the same time.
If you are thinking of online food delivery apps for your restaurant startups, the idea for a food ordering app is first comes in your mid at any time and again. It is the only and best way for customers to have delicious food delivered directly to their doorstep by using live location feature within the application.
If you are building an UberEats similar app or meal-ordering service app like Just Eat and Zomato, you will require an admin and POS system for either.
We can easy to build a food ordering app on mobile devices for food delivery and make it comfortable for your food delivery business. In reverse focusing on building an online ordering system, think about how you can manage and organize resources when you have combined the app for food delivery with your restaurants operations. You can keep the track of all transactions made online as well as their history with help of a smartphone app.
The online food applications build by these concepts establish a trusted connection between your business and customers, mainly for those with busy commute times.
Table Reservation Application
Table reservation app is the most effective option for restaurants across all over the global. Because, weekends bring a huge demand for restaurants since consumers are eager to eat in their favorite restaurants. It can, for instance, during peak times restaurant managing the crowds. This table reservation app will help you to manage and improve customers satisfaction.
With help of restaurant table booking mobile apps to your customers reserve an appointment, time slot, the where the table is located and the date, etc.
The pandemic situation is transferring more people to table in order to follow the guidelines for social distance. This is just one of the best ideas for food apps that ease the lives of customers by reducing their time. While the experience of the customers will be enhanced, restaurant business owners will be delighted to control their orders with greater precision. Restaurant chefs will have enough cooking time and proprietor is able to run his business from a smaller area.
Moreover, consumers can book restaurant tables by calling however, on other occasions, the employee at the restaurant will record the details of your restaurant reservation system on properly.
Cost-Saving ideas for food delivery business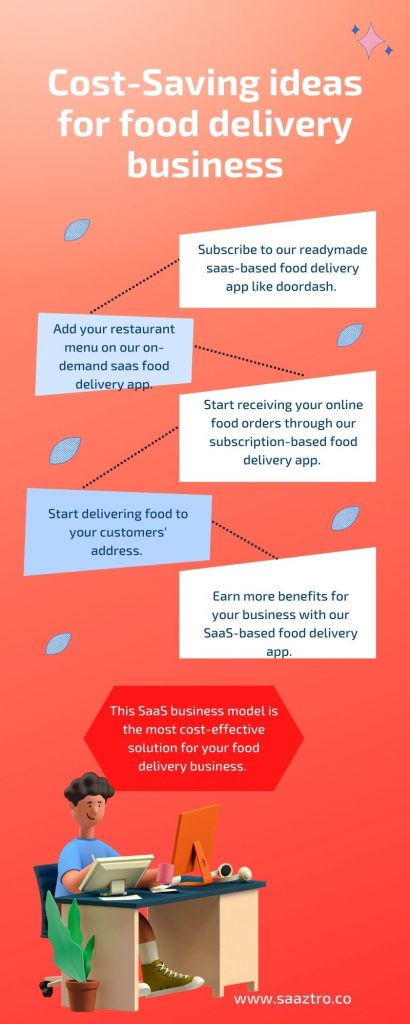 E-Menu Applications
The QR code food menu mobile app is also known as digital menu applications. Restaurants around the global are converting to mobile e-menu apps to create the dining experience of patrons at the restaurant in a safe.
Here, the e-menu permit the restaurant business owner replace physical menu cards by an electronic menu that allows restaurants owners can built their own digital menu.
Also Read: Complete Guide to Digitize Restaurant Business in 2022
Conclusion
The online meal delivery apps are available in multiple flavors and you just require to bet on any creative SaaS based food delivery solutions concept to reap the benefits.
If you are having any planning for your restaurant delivery or food delivery business, there are more unique and attractive food apps to select from us. For the more details contact us!