Restaurant marketing ideas: Marketing is the best way to engage customers and spotlight everything your restaurant has to offer. In this blog we clearly discuss the restaurant marketing ideas that will guarantee to success in 2022.
What Is Restaurant Marketing Ideas?
In short form, restaurant marketing ideas are all about creating special offers that get new customers through the door and bring back one-time visitors, turn them into regular customer and boost your restaurant sales.
Marketing restaurant business can involve everything from showcasing their signature dishes to running festival deals and can take the form of coupons, QR codes delivered through email or your receipt.
Preparation For Restaurant Marketing
Find Challenges of Your Restaurants
Restaurants are overcome their challenges with help of restaurant marketing ideas that are unique to their business, and finding basic issues of restaurant by dividing into the data and analytics from restaurant POS system.
In your menu system if any food section isn't getting a love from customers or your staff are idle in that day? Set up discounts on those foods that are not moving, and try launching a happy hour during off-peak times.
Know Your Customer Base
First fall you can find your targeting and existing customers and analyzing to understand their needs.
Analyze who you are: Your restaurant located near office buildings? Or stadium?  Do your consumers tend to be younger or older? Your service attracts families? Which one motivates your customers: trying new foods, saving money and having unique experience? Answer these queries first, and you will have much easier time coming up with restaurant marketing ideas that motivate repeat visits.
Restaurant Marketing Ideas to Increase Your POS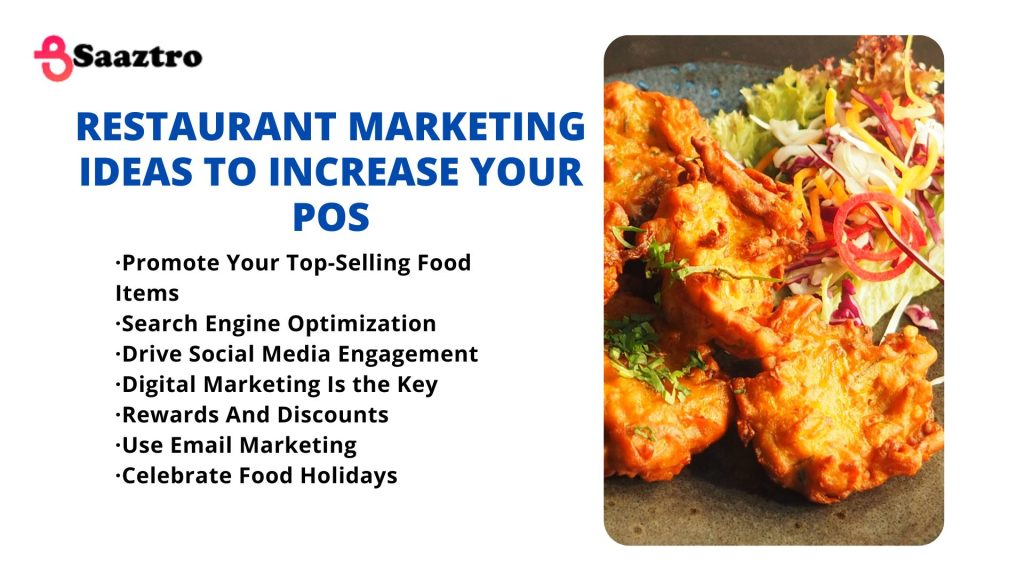 Promote Your Top-Selling Food Items
Search Engine Optimization
Drive Social Media Engagement
Digital Marketing Is the Key
Rewards And Discounts
Use Email Marketing
Celebrate Food Holidays
Your restaurant marketing plan doesn't have to be difficult. Here we are list out the best and innovative restaurant marketing ideas to promote your restaurant food delivery business.
Promote Your Top-Selling Food Items
Let's start with simple one. Take a complete report from your POS system and find out which food items are top selling. Then take a list of details and start promoting them.
Don't promote lowest food cost margin or what your like. You must promote what your customers love. Customers keep coming back for your restaurants "highest hits", so you don't waste advertising dollars on promoting anything else.
You having high quality images of your best-selling food items will help extremely here. Invest money in who know a about lighting, angle and editing of professional photographer.
You can use these images on your food menu, social media pages, website to you name it. These images will last you years and have some the better ROI of anything you do.
Search Engine Optimization
You must create a website or mobile application in your own brand name for your restaurant business. This restaurant delivery website will help you in boosting your business online. You can double your customer reach with help of this restaurant business website.
Just you having a single website won't be that effective but it would help if you had its search engine optimization done.
In human languages, SEO is the best way to added multiple keywords and other tools so that your restaurant business can rank on Google search engine. SEO is one of the best used ways to rank your website on Google searches result.
So, if you own a restaurant food delivery website but its SEO is not done, consider optimizing it to gain reach and improve your customers.
Drive Social Media Engagement
While simply having active social media accounts is best for restaurant business, an even better restaurant marketing idea is using those social media accounts to communicate with customers.
Here the social media accounts as a two-way communication system. Instead of simply telling your followers why your restaurant so great, you can invite your customers on restaurants and collect what they think and then using that feedback to improve your customer experience.
You can use polling and question features to get the communication on Facebook and Instagram. This could be about anything from what your customers thinks about your new logo to identifying what a new food menu item will be. Asking questions is the simple way to get your followers to engage with your posts and interact with you, rather than simply scrolling to the next piece of content.
Digital Marketing Is the Key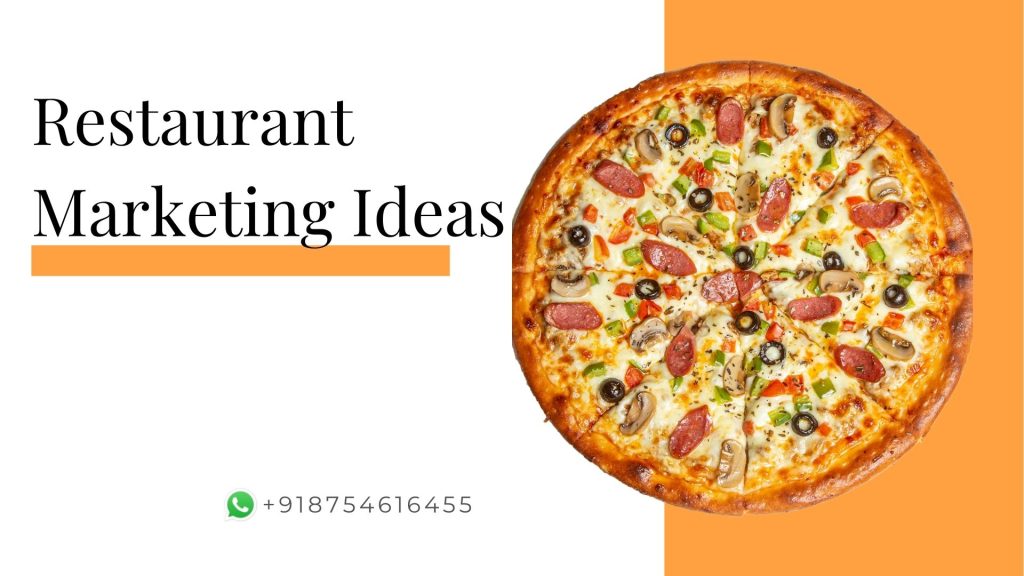 Online restaurant business is trying to create a strong and huge digital presence. We are never denying that a robust digital marketing strategy can take your business from zero to heights want to reach.
Before the COVID 19 businesses online presence way merely less, but today's totally opposite. The trending technology strategies are best way to promoting your restaurant business and also developing your restaurants.
With help of digital marketing strategies to finding your customers has become one of the simple tasks. Let us see a few points in the digital marketing industry for promoting your restaurant business.
Also Read: Digitize Restaurant Business
Rewards And Discounts
Customers always like it when they get something for free of cost. This restaurant marketing ideas will be a great leap if you own a restaurant business.
Consider offering bonuses, rewards and discount vouchers to your consumers. This is the best strategy for your restaurant and that will help you get more loyal consumers to your restaurants. Your local customers are considered an asset on your restaurant business, so believe us, you will never want lose your loyal customers.
Use Email Marketing
The email marketing is the one of the simplest ways to promotes your restaurant business in 2022. Sending individualize emails to your consumers is very simple than ever before.
A huge like 59% of people say that email marketing influences their purchase decisions, and email continuously generates the greatest return on investment of marketing channel at $38 for every $1 spent.
If you are planning to switch your promotions to email marketing, it can be a game-changer for your restaurant business.
Celebrate Food Holidays
Food holidays are a best way for restaurant business to drum up excitement for even the most ordinary drinks and dishes. There are more opportunities to celebrate and with a national food holiday for just about every dish.
If you want to take advantage of National Margarita Day, National Pizza Day or any other food-themed holidays, try these innovative restaurant marketing ideas,
Offer limited-time discounts to drive traffic
Support a good cause
Launch a social media contest or giveaway to boost engagement
Use national food day hashtags to help customers find your restaurant
Conclusion
Marketing a restaurant business in 2022 is not as easy as in the past years. But the way, ideas, strategies, etc. have to changed, and also customer approach are to changed.
Now we can't think of using the old marketing ideas as they won't help your restaurant business growth. Using the above we discussing marketing ideas for restaurant promotion in 2022 will definitely help your restaurant growth and reach the greatest success of your business.