Online Food Delivery App: The use of online food delivery apps has experienced huge growth amid the Covid-19 outbreak. People like to get their favorite food at their doorstep without leaving home with the help of online food delivery services.
Check food delivery apps in South Africa to know how they satisfy the growing demand of customers . We also developed the best food delivery app in South Africa. Let's see all those features.
Food delivery apps make it relatively easy for food lovers to order mouth-watering dishes from local restaurants and deliver at home with a few simple taps on their smartphone.
Online food delivery apps provide customers with convenience to select from a range of local restaurants, food, and much more.
Features Of An Online Food Delivery App
Push Notifications
Today, most people prefer online food ordering, having more than one food delivery app on your smartphone is common. Sending push notifications is the best way to get visibility and let you stay ahead of your competitors.
These notifications help to convey all kinds of information like offers, discounts, location-based dropped orders, etc.
Live Tracking 
Live tracking is one of the important features of food delivery apps that enables customers to track the location of their food in real-time. The motive of GPS is to provide two-way tracking as well as functioning.
It helps to recognize the customers' location to deliver the food. And once the area is confirmed, customers can easily track the progress and movement of the delivery partner.
Social Media Integration
In the last few years, social media have contributed a lot to online marketing. With social media integration, customers can easily share images or videos of their favorite foods with family and friends.
It would also create your online food delivery app noticeable on social media and can easily bring customers constantly.
Easy Order Placement
Most people choose to food order online because the order placement process is straightforward and quick. It is only achievable if you have designed your food delivery app to be user-friendly. Online food delivery apps must have an excellent UI design.
The UI design is an important part of the food delivery app through which customers communicate with the app and order services.
QR Codes
QR codes can be a important addition to online food delivery apps. Many customers can do with them, like quickly scanning the menu to order their mouth-watering meals and seamlessly making payments online.
Customers can also use these QR codes to share their referral code with friends or on social media.
Search Filters
The last thing customers want is spend hours searching for food when incredibly hungry. Hence, we integrate smart search filters so customers can easily search for the perfect restaurant and place their order.
Food type, delivery time, location, preferences, distance and ratings are a few search filters you can provide in your on-demand food delivery app.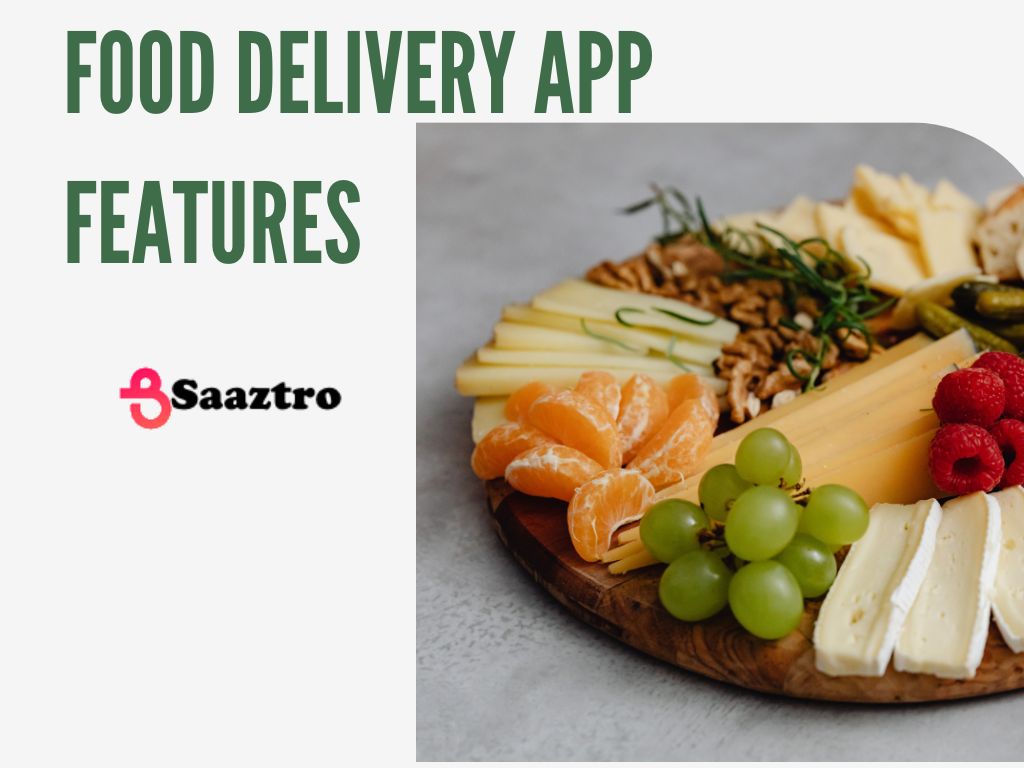 Favorites (Restaurants/Dishes)
Another thing customers despise in online food delivery apps is repeatedly having to search for their favorite restaurant with food and words. Instead, they want an intelligent feature that takes away this hassle and makes sure they order from one place.
We can add a feature that allows your customers to mark their favorite food and restaurants.
Discount/Rewards and Cashback
When charming more and more customers to your food delivery app, discounts and special offers are the best choice. It would be best if you routinely provided great deals to engage customers.
According to the report,  around 40% of customers use a food delivery app to look for discounts and cashback, while 25% use these apps to earn loyalty points.
Reviews & Ratings
Every on-demand food delivery app must have a review and rating feature. It would help your customers rate and review different restaurants with their listed dishes on the app.
If your food delivery app is rated well, then the chances are high that lots of people will prefer visiting your on-demand app.
Conclusion
We have developed an online food delivery app in South Africa. The customer focuses on live tracking systems in their mobile apps to ensure customers provide an experience. Also, we develop the above-listed features of a food delivery app.