Digitize Restaurant Business: The unique digital solutions and trending technologies are still new for more restaurants. The entrepreneurs find it hard to adapt to the trending technologies and also engage their restaurant business online.
But the COVID 19 pandemic situation forced for traditional restaurant to transform a digitization. Today online restaurant business is very popular for all over the world. So now you are planning to digitize your restaurant business? But don't know where to start?
You are in the right place, here we completely guide for how to start digitize restaurant business in 2022?
The trending technologies to digitize restaurant business in 2022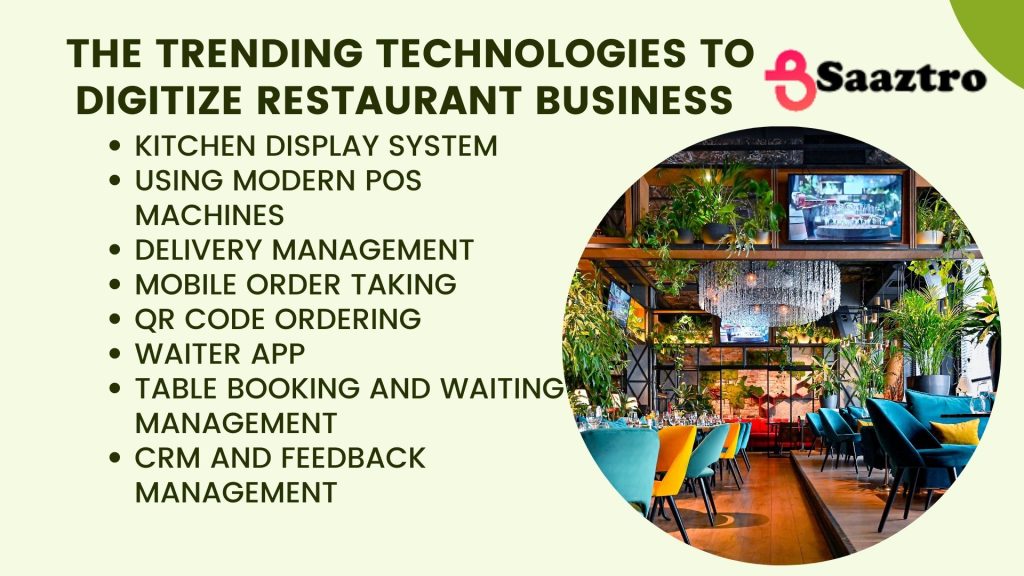 Kitchen display system
Using modern POS machines
Delivery management
Mobile order taking
QR code ordering
Waiter app
Table booking and waiting management
CRM and Feedback management
Kitchen Display System
The kitchen display systems are big part of digital restaurant management solutions. Restaurants display menu orders on the computer screen fixed in the kitchen. The online orders are automatically sent to the kitchen display system with help of POS systems. This automation process eliminates the need of paper-pen tickets for order taking.
The kitchen display systems display online food orders in the queue and keeps them on the computer screen until they are completed those orders. If like any orders notes extra cheeses or light cream are displayed, make sure you always offer excellent customer service.
Advantages Of Kitchen Display Systems
One waiter has enough time to attend to 16 people at a time with help of kitchen display system.
Reduce more labor costs as restaurant owners don't require as many people in the dining room and the kitchen with help of kitchen display system.
It helps the kitchen and dining staff get the food faster, thus the restaurant can give the more attention to the customers.
Using Modern POS Machines      
A point of sales system integrates software and hardware that restaurants can use to bring up customers orders and accept online payments. This POS software can bring a complete restaurant digital transformation.
Nevertheless, a cloud POS system operates in cloud servers, unlike a traditional POS system that stores data on the local server.
Advantages of POS
The POS systems tracks all a food order online related data which you can then pile into reports and take informed business decisions.
Most of the POS system have advanced features like notification, alerts or even automatic purchases when your inventory runs low.
The POS system does it all for you instead of having to physically hand write each consumer order and tally up the total payments.
Some time the POS systems have clock and permission functionality within them so that you can track when and what each staff is accessing your system.
Delivery Management
Online food delivery has become a crucial service for each restaurant more than ever. Nowadays people like food ordering online and getting them delivered to their doorsteps. Because home food deliveries as it allows people to watch movies without any interruptions.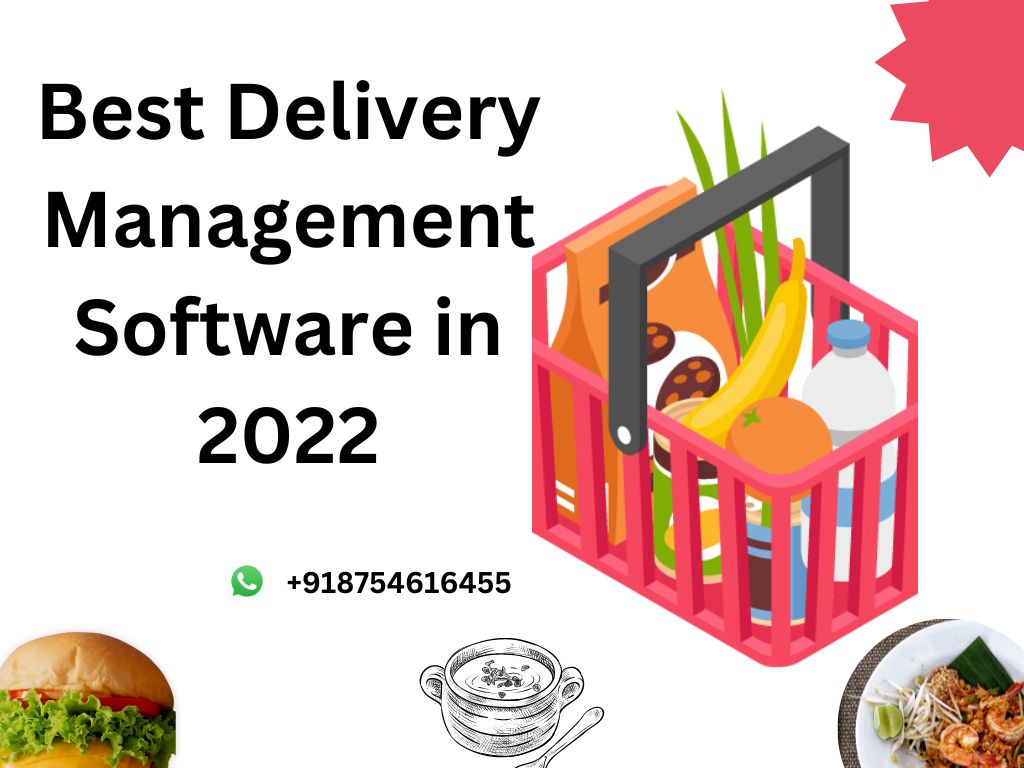 If you plan to launch online food delivery services for your restaurants but that are lacking your fleet, we can help you.  If you not interest to invest in a fleet, we can help you connect with third-party delivery services like Porter, Borzo, Pickrr and Dunzo.
Delivery management system help you to track your food deliveries in real-time, monitor the drivers' live locations, etc. thus the restaurant can deliver food efficiently and timely.
Also Read: Top Restaurant Business Trends In 2022
Mobile Order Taking
If you are running a small restaurant at low budget? Can't buy a POS system for your startup restaurant? You don't worry we have a perfect solution for that too. You can get online orders on your mobile or smartphone also. We combine the POS software to your mobile phones, which you can use for your small café or food truck.
QR Code Ordering
QR Code ordering is the futuristic technology that will help you digitize restaurant business the restaurant owners can gain back sales during the pandemic and post-pandemic times with help of digital order management solutions.
As per statistics, people add more their cart and to more promotion on a device or computer than when speaking to a human. QR code ordering permit the consumers to scan the menu on their phones and place order online.
QR code menus need zero in advance investment because the menu screen is the customer mobile which they can use to scan the code and get the menu.
The restaurant staff instruct customers to scan the QR code on the table once they are seated in the restaurant with a QR code order. Scanning brings up the restaurant menu, which restaurant owners can simply set up and customize the orders.
Consumers can check the digital menu on their mobile phone and add the dished they want to the cart with their table numbers. After consumer enter their payment information, submit payment and there is sent to the kitchen system.
Waiter App
This waiter application is another trending technology in the restaurant industry. Call the waiter applications are gaining more famous for best table services. The mobile app permit kitchen staff and customers to call the waiter with a tap on the screen. The waiter will come at the table with a single tap for help. Kitchen staff also call waiters for food serving once they are done cooking.
Thus, the waiter applications to help in improving staff efficiency and consumer services.
Table Booking & Waiting Management
The online table booking and management system is very easy to use. It allows the restaurant owner to accept online booking requests for tables. They don't require to wait in queues outside the restaurants for bookings.
The restaurant owners can see all the tables on the system and check which tables are free and which tables are occupied. And also, they can check the customers name, expected time of arrival.
In additionally, restaurant owners can also see the all of customers database including their past visits, preferences, contact information, etc. restaurant owners can use this information for future promotions and marketing strategies. This online system also supports advanced features like sending email and SMS confirmations.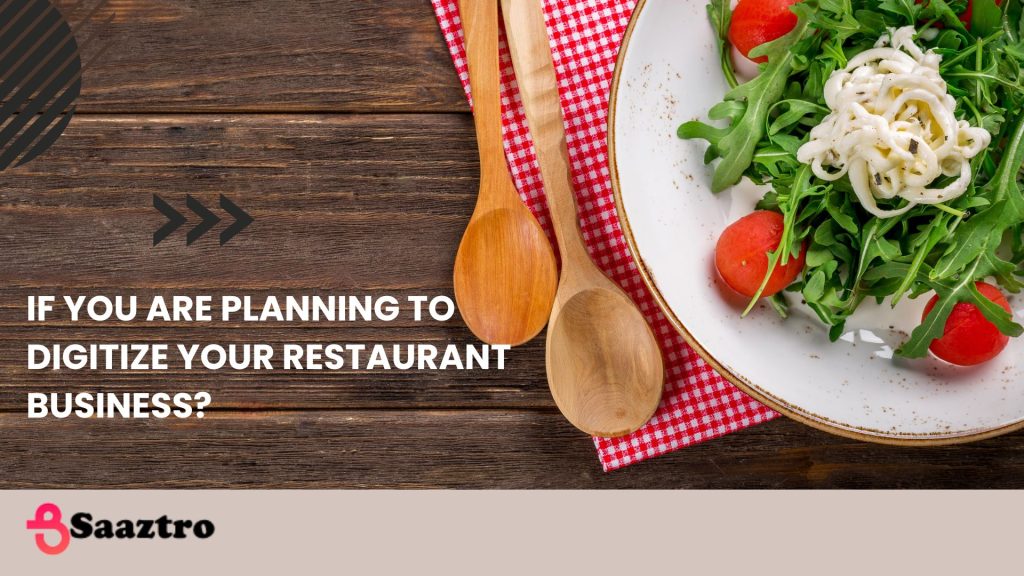 Advantages Of Online Restaurant Booking Systems:
The online table booking system give it simple for consumers to book restaurant tables.
Another benefits of an online restaurant table booking system is that it collects vital consumer data and stores it for future use.
CRM & Feedback Management
All restaurant owners are mainly focus on their customer satisfaction. People cheerfully pay more for stellar customer experiences. At the same time, restaurant services are not up to the mark, customers immediately switch to your peers or competitors.
The Customer Relationship Management (CRM) software helps restaurant owners gain a deeper and total understanding of their consumers. Restaurant can use this to deliver personalized consumer experiences. So, consumers feel valued and happy.
How to start your Restaurant Business with Readymade Food Delivery App?
Conclusion
If you are looking for a perfect online food ordering and delivery software for your restaurant, contact on Saaztro for our subscription based readymade food delivery app solutions. This restaurant food ordering system suite is ready to launch and needs zero initial cost.